Donate
Checks can be sent to:
Fountain Of Blessings
145 Country Club Drive
Tampa, FL 33612
Service Times
I will come to you and bless you in every place where I cause My name to be remembered. Ex. 20:24
Worship and Bible Study
Saturday 11:00 a.m.
Prayer Meeting
Tuesday 7:00 p.m.
Ladies Bible Study & Book Club
Handmaidens of the Lord
Monthly Sunday 4:00 p.m.
Study the Messianic Perspective with Our Christian-based Books and Daily Devotional
Can't make it to Fountain of Blessings or want to gain a deeper understanding of the Lord through the Messianic perspective? Our books are now available online for purchase. For those who seek divine healing and spiritual strength, we offer "Health Food," a 30-day devotional. Study the ways of the Lord by uncovering His character in "Our Magnificent God." And learn from the physicians who have found the calling of God through medical mission work in "Unique Call."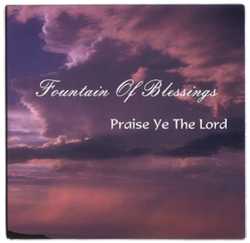 Fountain of Blessings "Praise Ye The Lord"
This CD is available for purchase as a CD that will be shipped to you or Digital Download
Fountain of Blessings CD
$5.00 ($4.00 shipping and handling)
Fountain of Blessings Digital Download
Here is a sample of the CD
This text will be replaced
Mini Bible
Capturing the main concepts of the Holy Books.
$10.00
$4.00 shipping and handling
Health Food
A 30 day devotional for those who seek divine healing.
$3.00
$4.00 shipping and handling
Our Magnificent God
A description of the Names of God, as revealed in Scripture, that describe His character, nature and attributes.
$6.00
$4.00 shipping and handling
Unique Call
This book exposes the experiences of different physicians who have participated in short-term missions.
$3.00
$4.00 shipping and handling
Checks can be sent to: Fountain Of Blessings 145 Country Club Drive Tampa, FL 33612
Sign up for our weekly devotional e-mail